Perfect for family one-day trips and entertaining special guests!
Our tour departs with a minimum of one participants.
Overseas tourists can also enjoy our tour with an interpreting service.
There are "Leave it up to the tourism professional" plan, in which an exclusive driver accompanies your trip. Please feel free to ask about these plans.



Other than the tours mentioned above, there is an abundant selection of courses, including the leisure hot spring plan in Kusatsu and the sightseeing in Hakone plan. An all-original plan according to your budget is also available.
*1. The price is set to 86,400 yen in case of a reserved bus (HIACE). (Maximum of 12 people)
*2. The noted duration and price is only an estimation. Highway and parking fees are not included.
*3. Prices of the plans are calculated by setting the origin and final destination to "Narita Station."
*4. A maximum of 6 people can ride the hire tour.

① Sign up for a reserved hire tour (Telephone or email)
② Carefully select your destination (There is also a "Leave it up to the professionals" plan)
③ Briefing session for the actual tour course
* For hire tours, the origin or final destination must be in the Hokusou area. Please feel free to inquire about locations other than the selected areas.
[Selected Available Areas] Narita City, Tomisato City, Sakura City, Inzai City, Katori City, Yachimata City, Shiroi City, Shisui Town, Shibayama Town, Tako Town, Tohnosho Town



A luxurious and relaxed experience awaits you with the premium hire to and from Narita Airport.
We also offer foreign language services using the interpretation service.
Please feel free to use our service for transportation of foreign VIPs and executives.
Service rate
Reservations in advance needed for Premium hire service.
Please make reservations one month to one hour in advance.
Toll road fares / parking fees will be charged separately. Furthermore, the use of the "Tokyo Expressway" is set as a premise.


About the boarding place
A car will pick you up at the place you specified upon making a reservation.
For transfer from the Narita Airport (both tour and pickup service), pick up points are located as shown in the image below.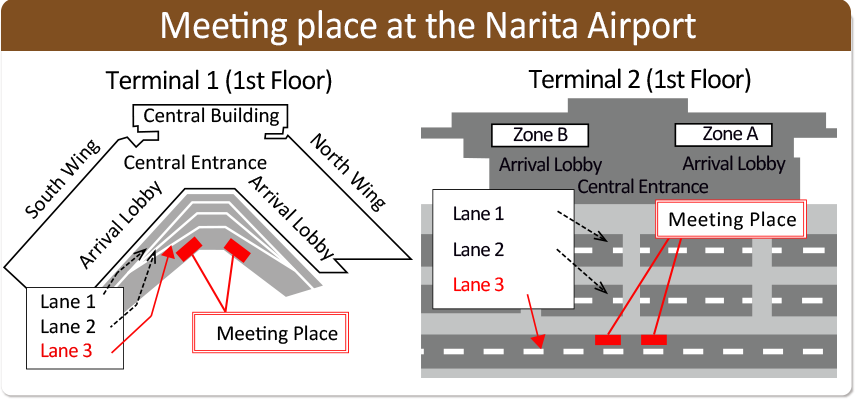 Luggage
For 1 to 3 passengers, up to 4 large suitcases are allowed to be onboard.
For 4 to 5 passengers, up to 2 large suitcases are allowed to be onboard.

* The number stated above is an indicator.
Number of passengers
A car can accommodate up to 6 passengers. However, a maximum of 5 passengers is recommended to travel comfortably.
Payment manners

An invoice will be e-mailed to you. Please proceed with the payment from the link provided in the e-mail received.

Our bank account
ジャパンネット銀行 すずめ支店
普通口座 8652553
東関交通株式会社 トウカンコウツウ(カ
Japan Net Bank Suzume Branch (002)
Ordinary Account 8652553
Tokan Kotsu Co., Ltd.
* Please note that any bank charges will be borne by the customer.

Please pay to the driver directly in cash or on a credit card.
Credit cards accepted(VISA, Master Card, AMERICAN EXPRESS)


* Only lump sum payment is accepted.
For overseas customers
- Procedures from reservation through receiving service -
① The customer makes a reservation by completing a reservation form.


The customer specifies pick-up time, pick-up place, itineraries, etc. by e-mail, in principle. (Provisional reservation)

② We will send you an invoice by e-mail.


The reservation will be confirmed after the payment is completed.

③ The customer meets the driver at the pick-up location.


The driver is waiting at the pick-up location.
Others
An invoice to be emailed will be prepared either in Japanese or English.
Please call 050-5578-7012 if you fail to find the pick-up point on the day of receiving service.
(The operator is capable of communicating in simple English.)
Please be assured that interpretation services are available once you met the driver.